image by  ~Twon~
Basically, kombucha is amazing! It tastes great and has so many proven and supposed health benefits, that there is really no reason to not drink it. Okay, maybe there's some people who shouldn't drink it, but we'll get to that later.
What Is Kombucha?
Kombucha is a fermented drink made from tea, sugar, and a symbiotic colony of bacteria and yeast (SCOBY). I think it tastes like fizzy apple cider.
Kombucha Boosts The Immune System
The SCOBY acts on the sugar and tea to produce acetic and lactic acid and small amounts of a potent detoxifying substance, glucuronic acid. Normally, our liver produces this acid to neutralize toxins in the body, but when liver function becomes overloaded, kombucha is said to be a powerful aid to the bodyy's natural cleansing process, a boost to the immune system, and a proven preventative measure against cancer and other degenerative diseases. It is rich in probiotics and B-Vitamins.
What Is So Amazing About Kombucha?
People can tell you all the benefits of something, but you still might be skeptical, so here are a few of my kombucha experiences to erase those doubts. 🙂
The main reason why I think kombucha is so amazing is because of how fast it works! To be suffering for about an hour and feel totally fine five minutes after drinking kombucha, blows my mind!
In March of 2012 my husband and I drastically reduced our intake of sugar and eliminated white sugar. This benefited us greatly, but along with it came immediate headaches when eating something which contained white sugar at a party or gathering. Knowing the kombucha detoxes you, I drank some as soon as we got home from the party and within FIVE MINUTES my headache was gone.
Multiple times it has cured my sugar headache. (I know I should know better and not eat that stuff, but I always tend to think a little bit won't hurt. I'm wrong every time.) It also has helped me with nausea.
Just yesterday evening I laid down to sleep when major heartburn came upon me. I had to sit straight up and almost felt like I could puke. My husband quickly googled what to do to help heartburn and read that drinking something acidic would trigger the stomach to stop producing so much acid. "Do you want some kombucha?", he asked. Sure. (I really thought it was going to make my heartburn worse.) I drank two gulps of kombucha and propped myself up with lots of pillows, hoping I would be comfortable enough to fall asleep. In about 15 minutes my heartburn was gone. Still not convinced it was going to stay away, I kept myself semi propped up with the pillows, but being too uncomfortable to fall asleep I finally removed the extra pillows and fell asleep. No more heartburn. AMAZING. I could have easily had a horrible night's sleep, but I didn't!
Is Kombucha Beneficial For Everyone?
Technically, yes, but some may have an allergic reaction to kombucha. If you have allergies, start with a small amount to observe any adverse side affects. If you react badly, use beet kvass several weeks to detoxify and then try again.
It is suggested that women do NOT start drinking kombucha if they are pregnant or breastfeeding. If you have drank kombucha prior to pregnancy, it is okay. Take caution if you do drink kombucha while breastfeeding. Since your baby drinks what you drink through your milk, it may affect your baby differently than it affects you.
When you start drinking kombucha only drink one cup at a time. Helping your liver detox is a good thing when you start small, but if you drink a lot right away, you might not feel well. Start small and work your way up to however much you'd like.
 Make Your Own Kombucha
The process of making kombucha is easy, but somethings about it can be confusing, so I'll address some of the basics about it below. For now, let's gather the supplies.
You will need:
A gallon sized, GLASS jar or bowl
A thin tea towel (nothing with holes, such as, cheesecloth)
A gallon sized stock pot
A wooden spoon
Organic Black Tea (Organic tea is required due to the high fluoride content in non-organic tea)
Organic Green Tea
White Sugar (Use white sugar over other sweeteners to get the highest amount of glucuronic acid)
A SCOBY and starter (Available at Cultures For Health or from a friend, I'll give you one if you live close by me. I got mine off of Craigslist for free!)
Kombucha
Print recipe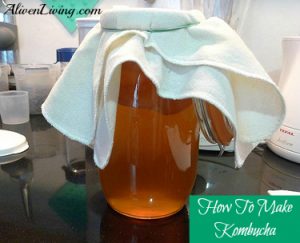 | | |
| --- | --- |
| Serves | 3 |
| Prep time | 10 minutes |
| Cook time | 5 minutes |
| Total time | 15 minutes |
| Meal type | Beverages |
| Region | Chinese |
Ingredients
3 quarts Water
2 bags Organic Black Tea
2 bags Organic Green Tea
1 cup White Sugar
2/3 cups Kombucha Starter Liquid
1 SCOBY
Note
Do not drink your kombucha if you notice mold on the SCOBY!
Directions
Step 1
In a large stock pot, bring the three quarts of water to a boil.
Step 2
When water is boiling, add the sugar and stir until totally dissolved.
Step 3
Remove from heat. Add the tea bags and stir to get them completely wet.
Step 4
Let the tea cool until room temperature. (Letting the tea cool only until it reaches room temperature reduces your chance of mold. If you do happen to leave it cool longer, adding about 1/3 cup more starter liquid will also help prevent mold.)
Step 5
Once the tea is cool, pour it into your glass bowl or jar.
Step 6
Add 2/3 - 1 Cup of your starter liquid, or kombucha from your previous batch and stir.
Step 7
Add the SCOBY. (It may float or sink, whatever it does, it is fine)
Step 8
Cover your jar with the tea towel and secure it with a rubberband.
Step 9
Set your kombucha in a warn place where it will be undisturbed. Do not set it in the kitchen, it will get moldy! Also, avoid running the ceiling fan in the room with your kombucha.
Step 10
Leave your kombucha alone to ferment for 7 - 10 days.
Step 11
After your kombucha is done fermenting, remove the SCOBY (there will be a new or baby SCOBY on top) and save 2/3 - 1 Cup of kombucha for your next batch.
Step 12
Pour the finished kombucha into glass bottles and repeat this recipe!
Do You Make Kombucha? Have You Made It In The Past?