I decided to harvest some of my meadow tea today! My plan was to make concentrate to freeze, but I was just looking through some recipes for Meadow Tea Concentrate and noticed that they call for a lot of sugar. I hate putting tons of sugar in anything I make; even the better sugar substitutes, because they are expensive!
I knew I had to come up with something creative… so I started thinking what do I have in my house that is sweet. Water Kefir!!! I actually have been thinking about sweetening other recipes with water kefir, but haven't tried it yet. I'd imagine that it would be a lot like using fruit juice.
So, I made my meadow tea concentrate by boiling water and adding the tea leaves to steep until cool. I left the sugar out completely. Then when I want to make meadow tea I will just add the rest of the water and sugar via water kefir!
Meadow Tea Flavored Water Kefir
Print recipe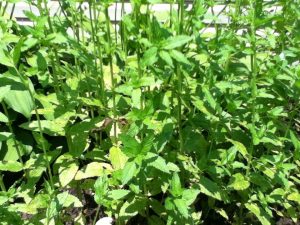 | | |
| --- | --- |
| Serves | 16 |
| Prep time | 10 minutes |
| Cook time | 5 minutes |
| Total time | 15 minutes |
| Meal type | Beverages |
Ingredients
2 quarts Water
4 cups Mint Leaves (packed)
6 quarts Water Kefir
What is your recipe for meadow tea concentrate? Have you ever used water kefir as a sweetener?