It's the time of year where almost everyone is making or buying peanut butter eggs. Only those with extreme will-power or those who know how horrible sugar is to our health can say no to peanut butter eggs.
I was feeling left out, so I decided to make some, the real food way of course. 🙂 So, here's my recipe!
Let me just say that the recipe is not perfect. My peanut butter was a little runny, too runny to shape anyways as you can see from the picture. Perhaps adding more arrowroot powder would help that. As with any candy recipe I make, you can see my lack of patience with dipping and dripping. lol. Maybe your finished eggs will look nicer than mine did.
This recipe uses a lot less sugar than the standard peanut butter egg recipe. That was my goal. So, don't feel bad about enjoying these peanut butter eggs!
Peanut Butter Eggs
Print recipe
| | |
| --- | --- |
| Serves | 18 |
| Prep time | 35 minutes |
| Meal type | Desserts |
| Occasion | Easter |
Ingredients
12 tablespoons Raw butter (softened)
1/2 cup Organic creamy peanut butter
1/2 cup Raw cream cheese (or substitute more butter)
1 cup Rapadura (powdered)
1 tablespoon Arrowroot powder
1-1/2 cup Semi-sweet chocolate chips
1/2 cup Organic coconut oil
Directions
Step 1
In a small bowl, cream the butter, peanut butter, and cream cheese until smooth.
Step 2
In a food processor, process rapadura until mostly in powdered form. Add arrowroot powder and process until mixed together.
Step 3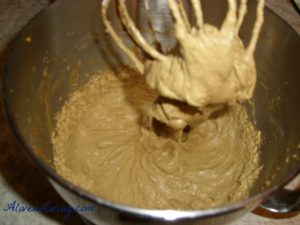 Gradually beat the rapadura mixture into the butter mixture. Mix on high speed until it is creamy with no lumps.
Step 4
Drop by tablespoons onto a waxed paper-lined baking sheet; form into egg shapes. Freeze for at least 10 minutes.
Step 5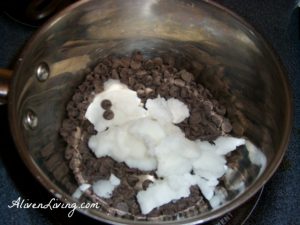 In a small saucepan, melt chocolate chips and coconut oil; stir until smooth. Remove from heat.
Step 6
Dip eggs into chocolate mixture; allow excess to drip off. Return to the baking sheet. Let stand until set. Store in an airtight container. (I put mine in the freezer.) Yield: 3 dozen.