Kombucha
Print recipe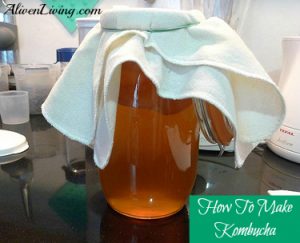 | | |
| --- | --- |
| Serves | 3 |
| Prep time | 10 minutes |
| Cook time | 5 minutes |
| Total time | 15 minutes |
| Meal type | Beverages |
| Region | Chinese |
Ingredients
3 quarts Water
2 bags Organic Black Tea
2 bags Organic Green Tea
1 cup White Sugar
2/3 cups Kombucha Starter Liquid
1 SCOBY
Note
Do not drink your kombucha if you notice mold on the SCOBY!
Directions
Step 1
In a large stock pot, bring the three quarts of water to a boil.
Step 2
When water is boiling, add the sugar and stir until totally dissolved.
Step 3
Remove from heat. Add the tea bags and stir to get them completely wet.
Step 4
Let the tea cool until room temperature. (Letting the tea cool only until it reaches room temperature reduces your chance of mold. If you do happen to leave it cool longer, adding about 1/3 cup more starter liquid will also help prevent mold.)
Step 5
Once the tea is cool, pour it into your glass bowl or jar.
Step 6
Add 2/3 - 1 Cup of your starter liquid, or kombucha from your previous batch and stir.
Step 7
Add the SCOBY. (It may float or sink, whatever it does, it is fine)
Step 8
Cover your jar with the tea towel and secure it with a rubberband.
Step 9
Set your kombucha in a warn place where it will be undisturbed. Do not set it in the kitchen, it will get moldy! Also, avoid running the ceiling fan in the room with your kombucha.
Step 10
Leave your kombucha alone to ferment for 7 - 10 days.
Step 11
After your kombucha is done fermenting, remove the SCOBY (there will be a new or baby SCOBY on top) and save 2/3 - 1 Cup of kombucha for your next batch.
Step 12
Pour the finished kombucha into glass bottles and repeat this recipe!